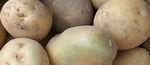 The GM starch potato Amflora owned by BASF has been genetically modified to hinder the production of one of the two starches naturally occurring in potatoes so that it contains more then 99% of amylopectine but very little amylose. It also contains the antibiotic marker nptII.
On 2 March 2010, the new EU Commission authorized the cultivation of Amflora, its use as animal feed and contamination of up to 0.9% in food.
Amflora is the brand name for the GM event EH92-527-1; its unique identifier is BPS-25271-9.